Adult School Classes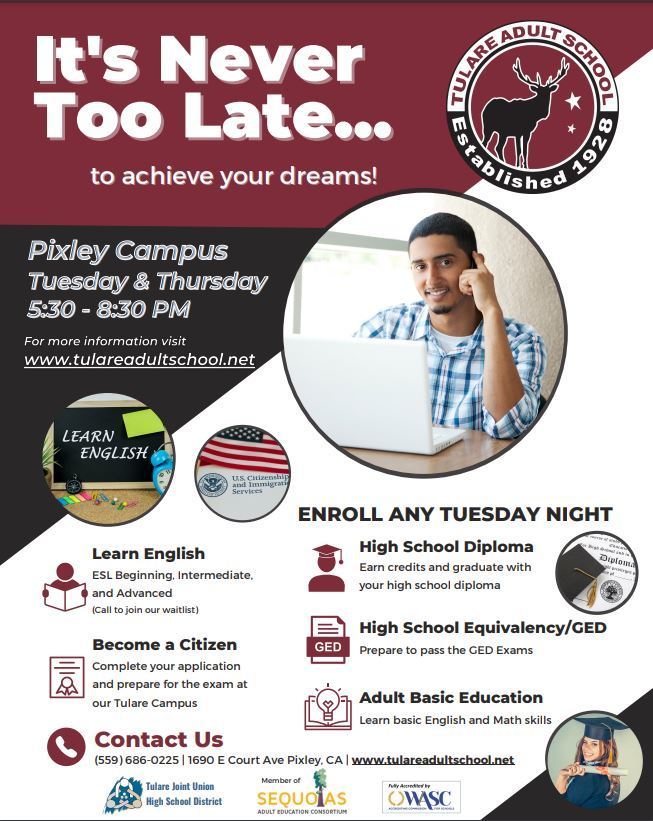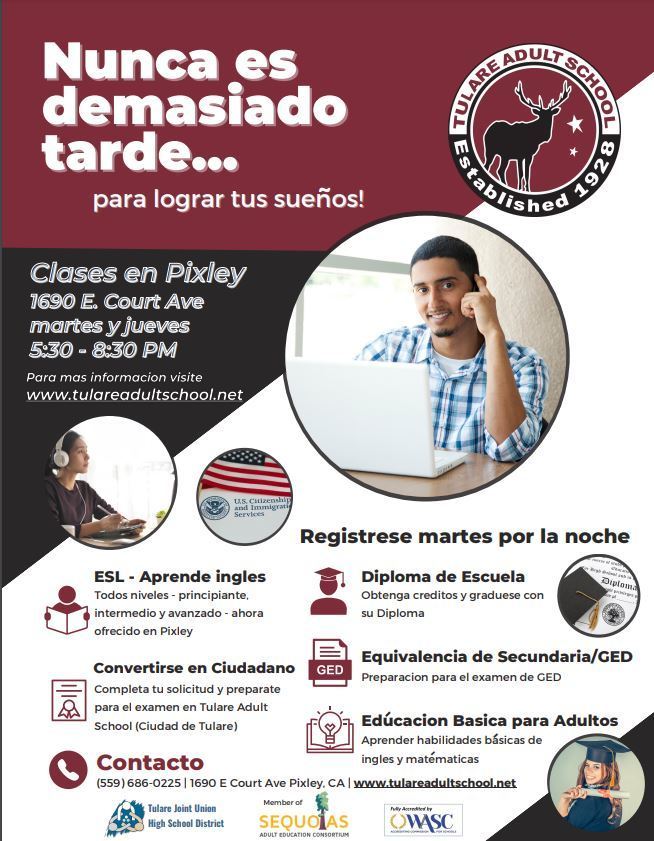 Tulare County Sheriff's Youth Services Unit is hosting a free soccer camp. Saturday, Jan. 21st, 2023. 8am to 5pm. McDermont X at 365 N. Sweetbriar Ave. Lindsay, Ca 93247. Call Daisy 559.802.9589 or Register at
www.tcsopal.com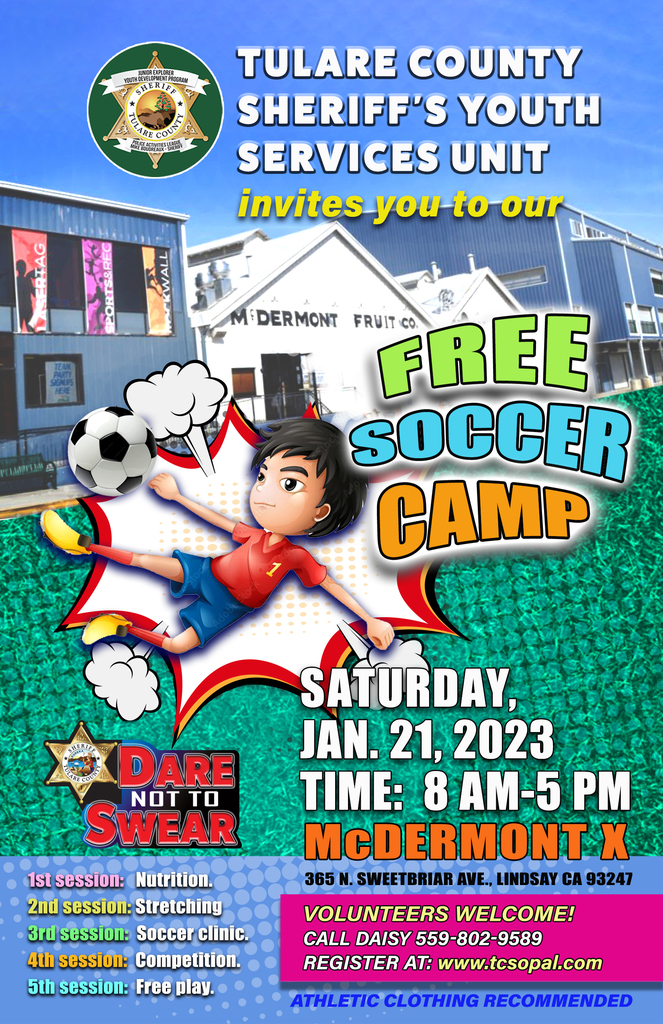 Merry Christmas!!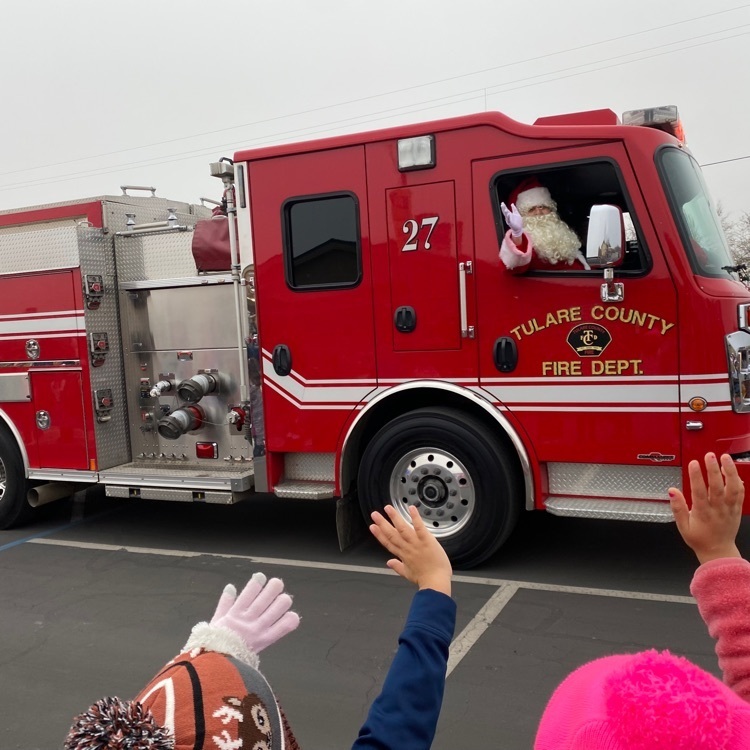 Santa Claus is coming to town...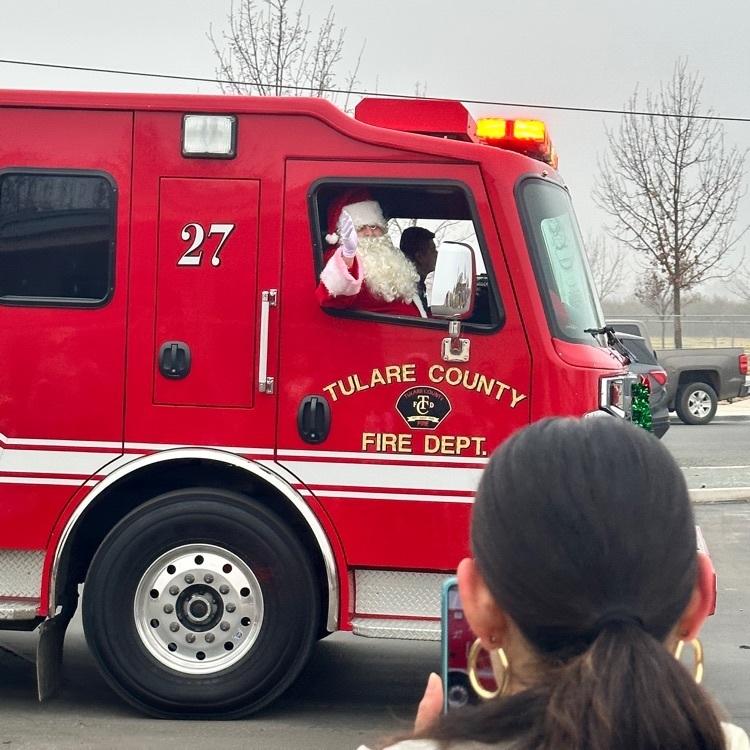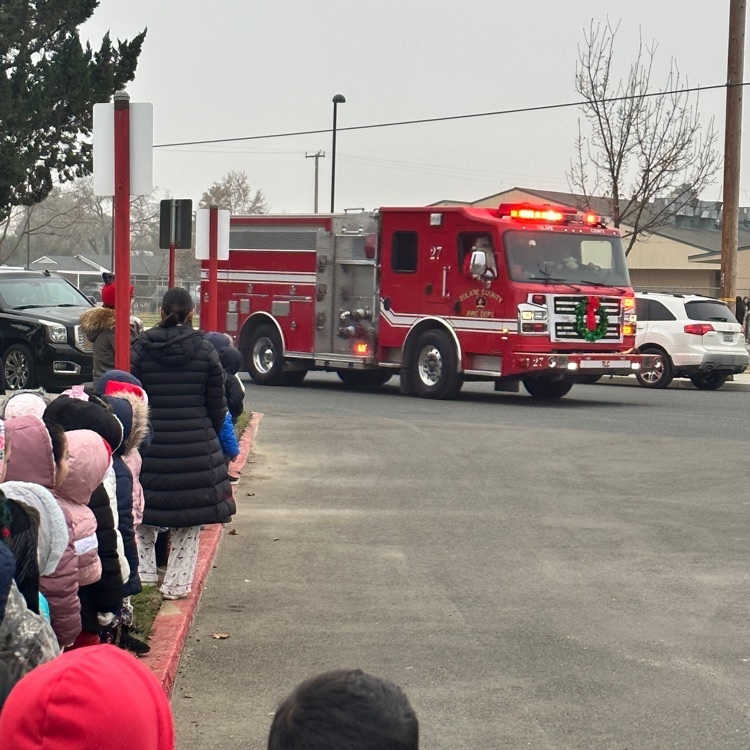 Pixley Library Branch January Schedule of Events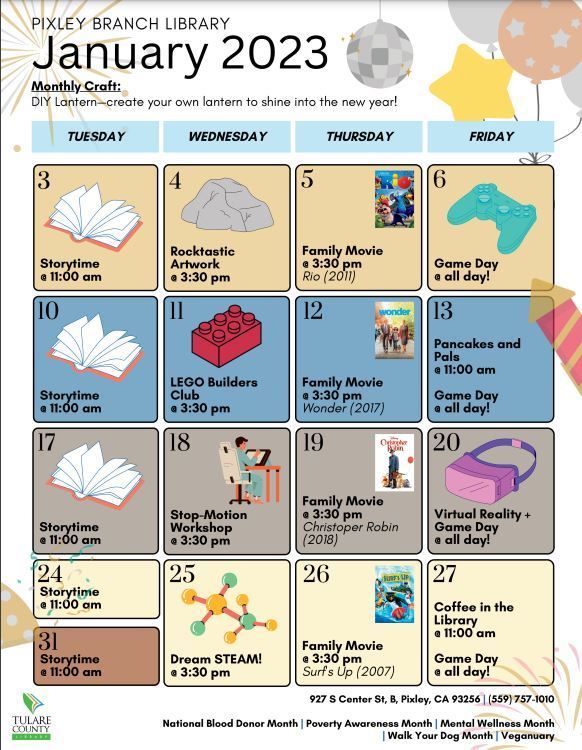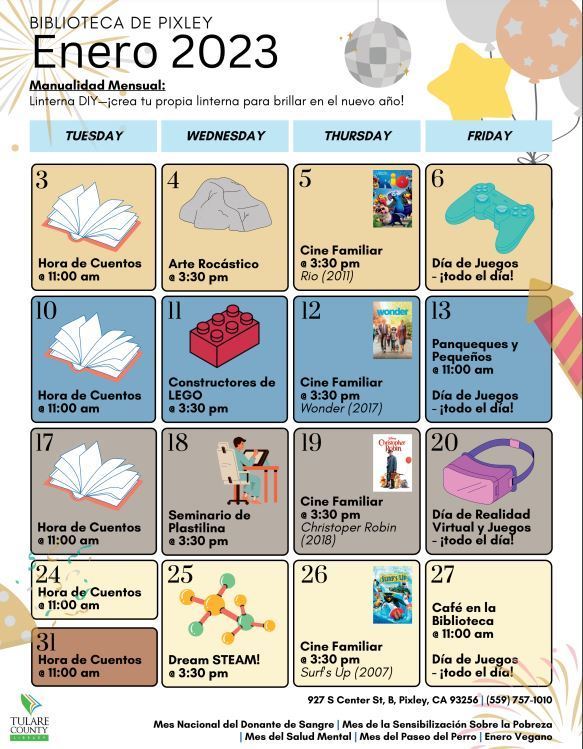 Reminder- There are no evening busses for the afterschool program on foggy days.

Tuesday December 20th: Attention Parents we are on a Plan A Foggy Day Schedule- School starts at 10:15. Breakfast will be served from 9:45 - 10:05.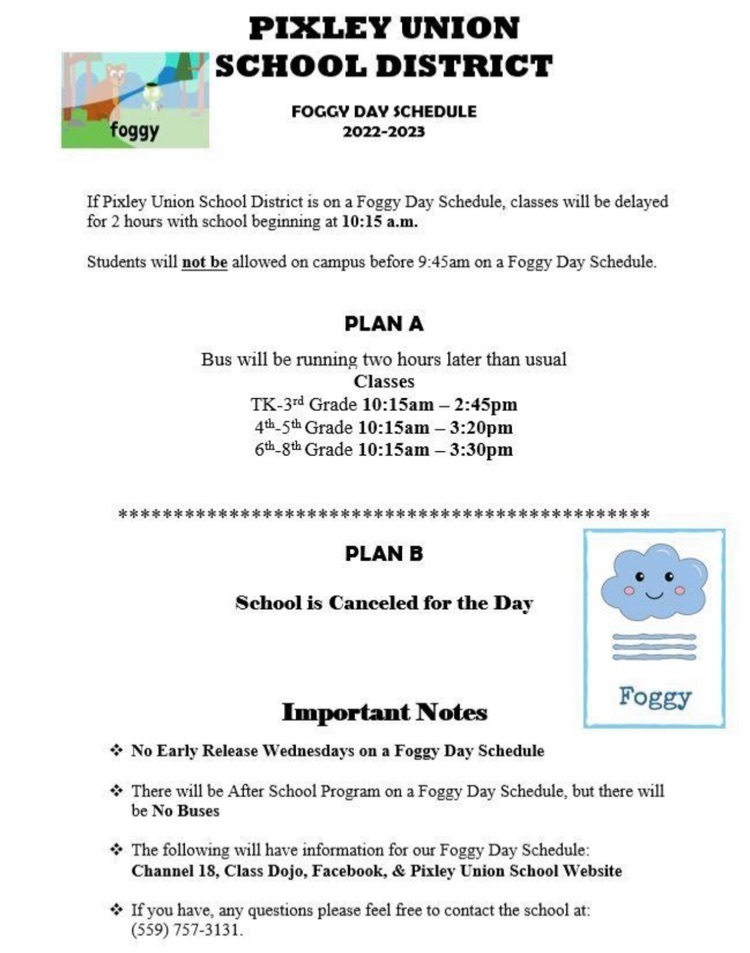 For those families who turned in a confirmation slip for the Winter Expanded Learning intersession, please read the following: The program runs from January 3rd-13th 8:30am-5:30pm Campus gate will open at 8:30am and close at 8:50am Transportation is available mornings and evenings (4:30pm), Monday through Thursday. There are no buses on Fridays, students must be dropped off and picked up Students must attend everyday of the winter program to be able to attend field trips/assemblies Students may not be late (after 8:50am) or absent more than 2 days or he/she will be dropped from the winter program Early pick up is accepted, but we encourage all students to stay full days to be able to enjoy all of our activities Behavioral expectations are the same as during our regular program. However, if a student is sent home for a behavioral issue, that student may not attend the field trips/assemblies If a student is sent home more than once for behavioral reasons, that student will be dropped from the winter program Kit Samuels Coordinator 559-757-3131 ex.2515
ksamuels@pixley.k12.ca.us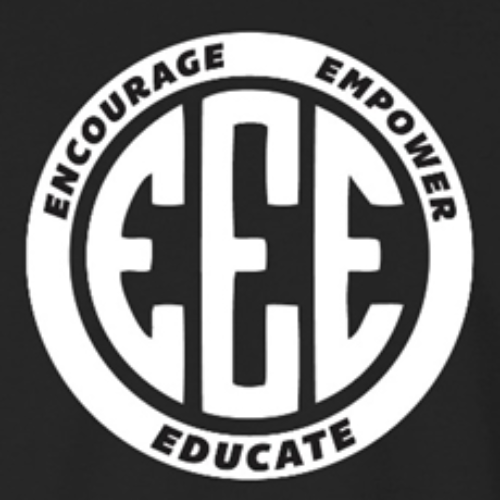 Pixley Union School District Annual Christmas Celebration. Please see the attached flyers for more information.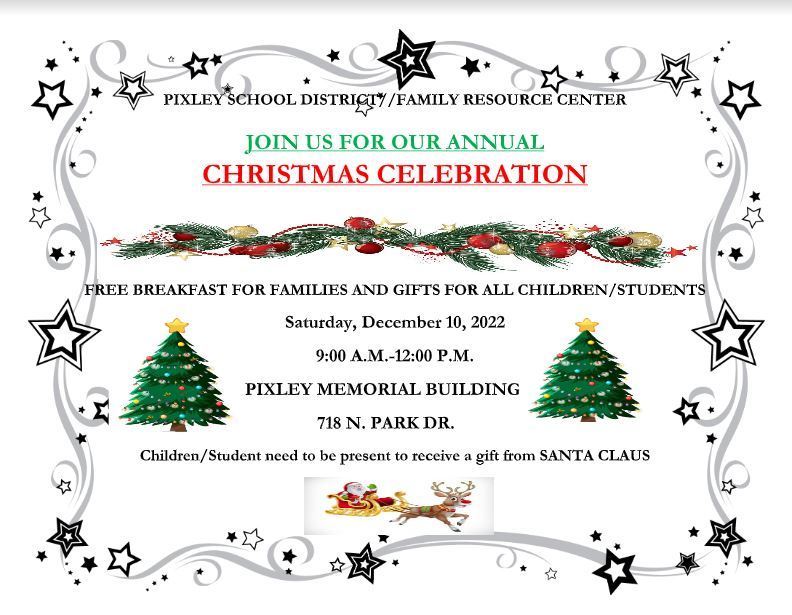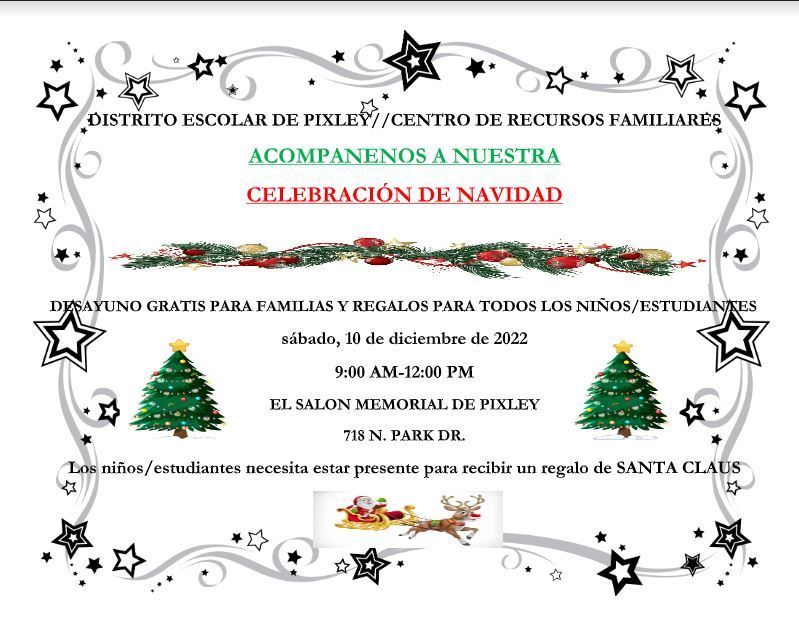 Another successful Community Thanksgiving Dinner! Thank you to all that helped and huge thanks to Teresa Lewis!!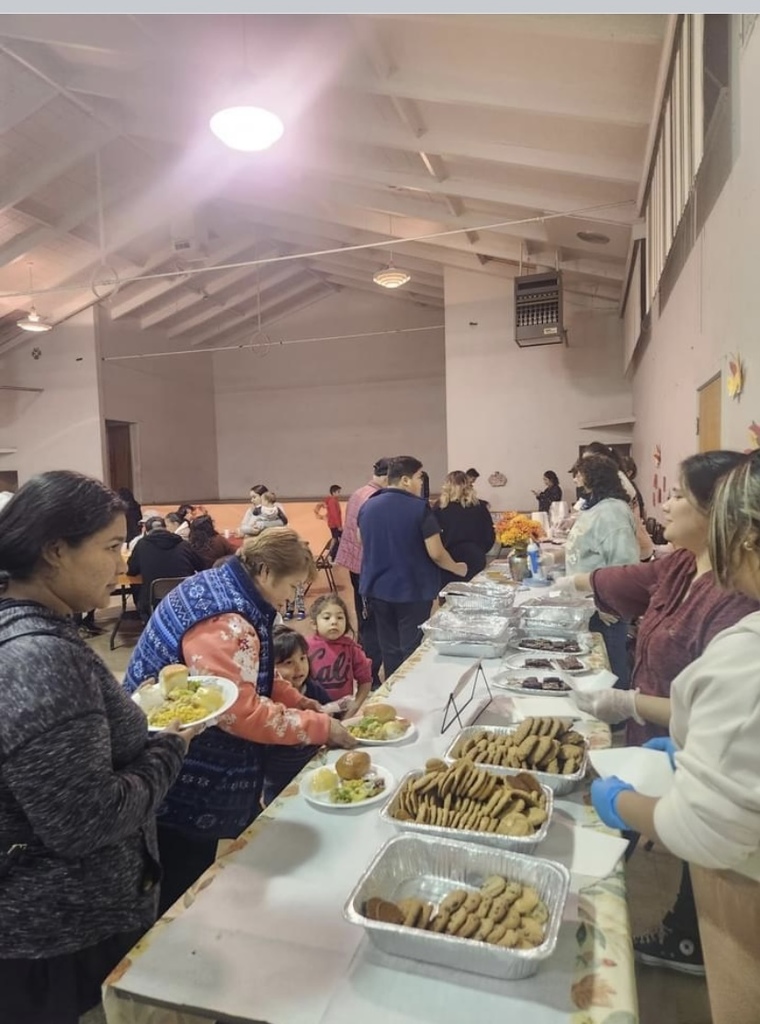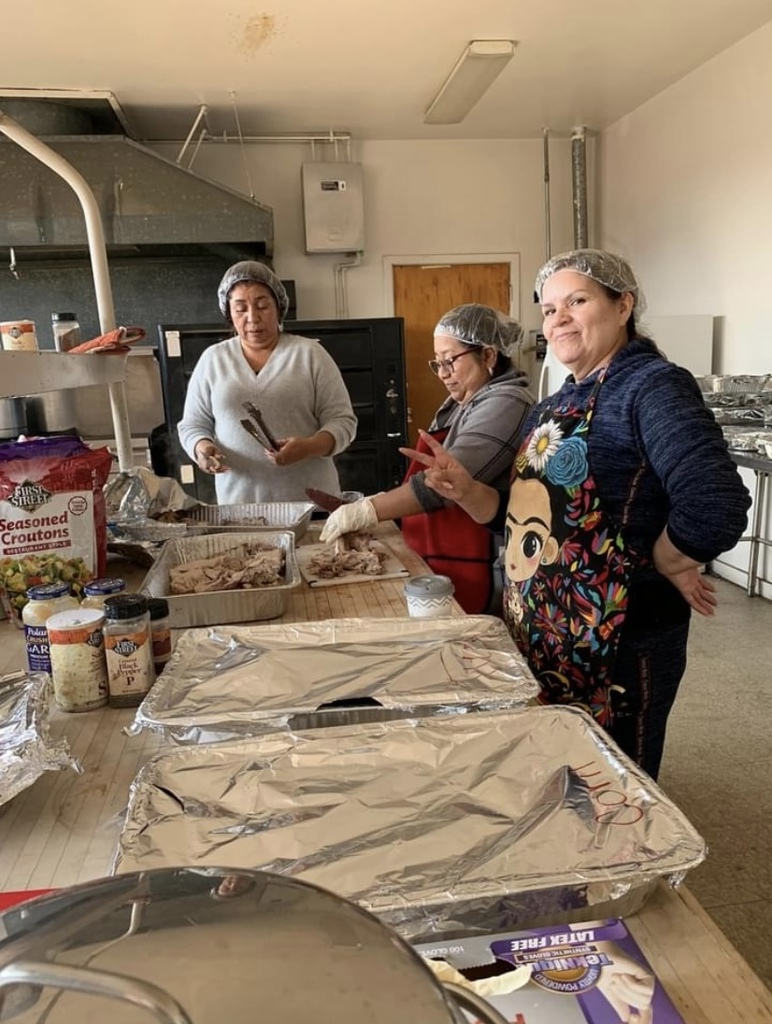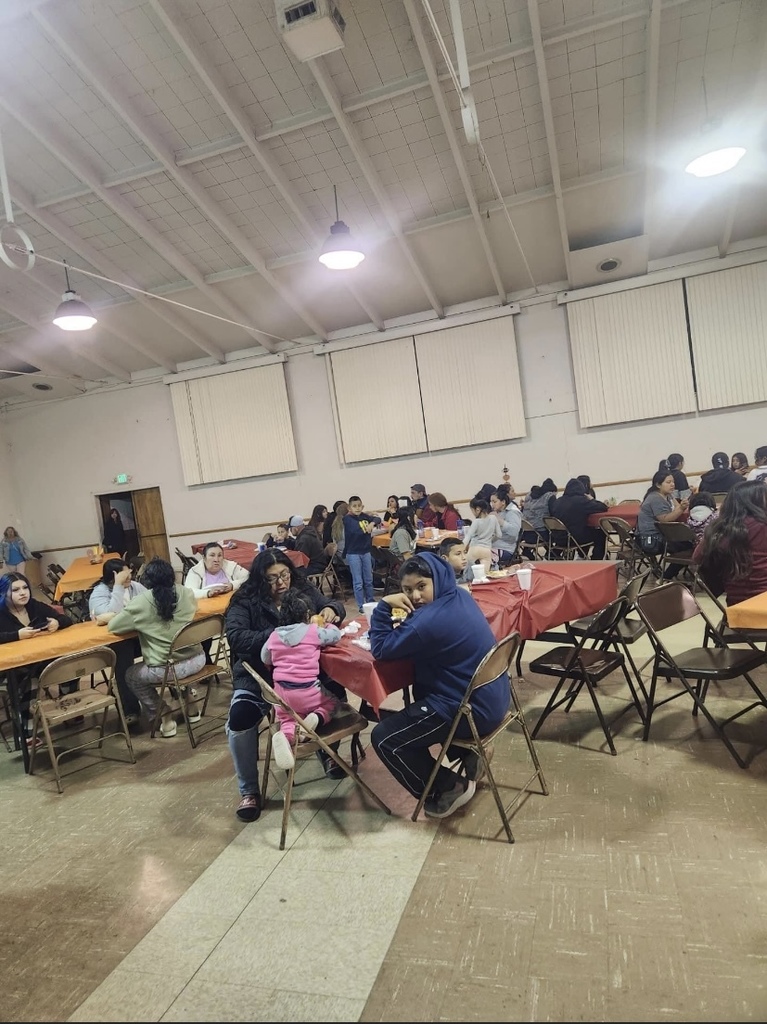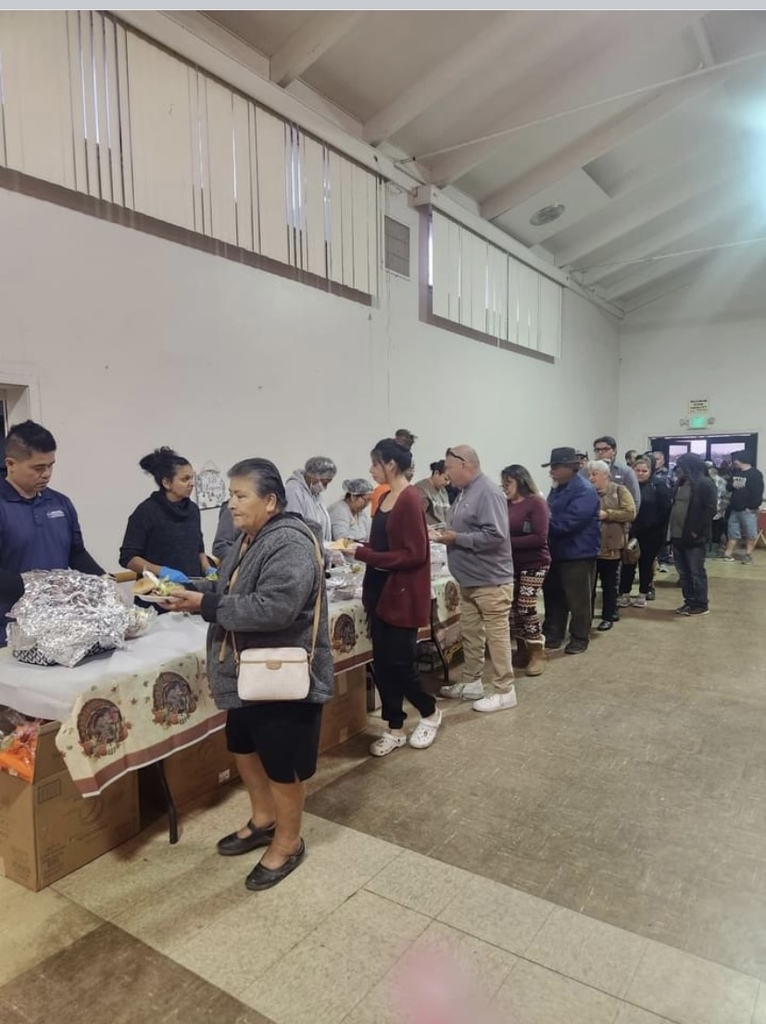 Pixley Union School District Office Hours 11/21 - 11/25 Monday 8:00am - 3:00pm Tuesday 8:00am - 3:00pm Wednesday 8:00am - 12:00pm Thursday Closed Friday Closed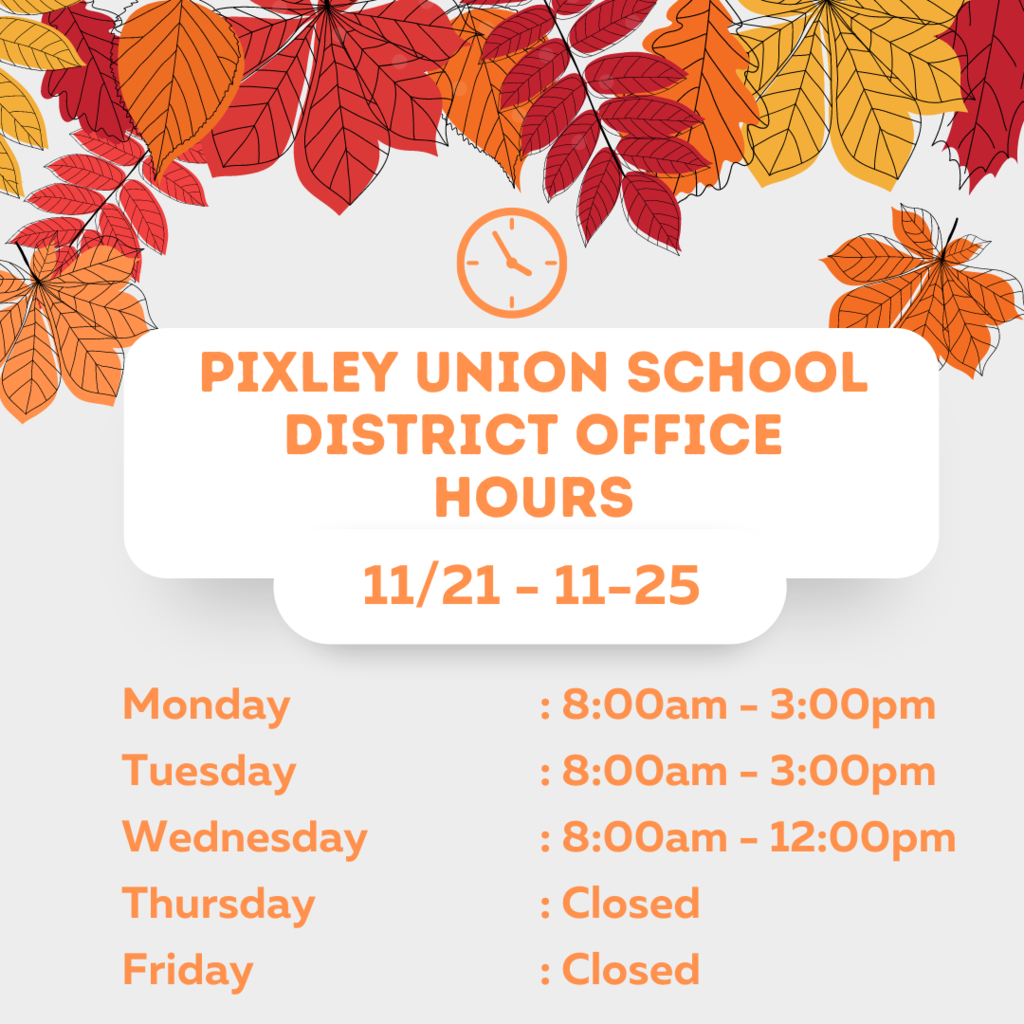 Tomorrow November 18th, 2022 is Early Release. The Expanded Learning Program (ASES) will be running. However, there will not be any evening bus. Students that ride the bus must be on the 1:20/1:30pm bus or be picked up from the program by 6:00pm.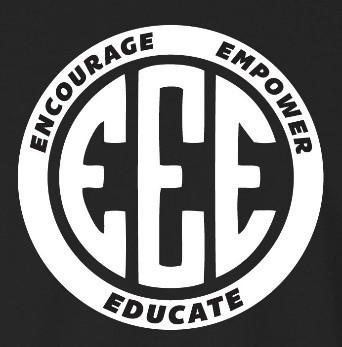 Thanksgiving Break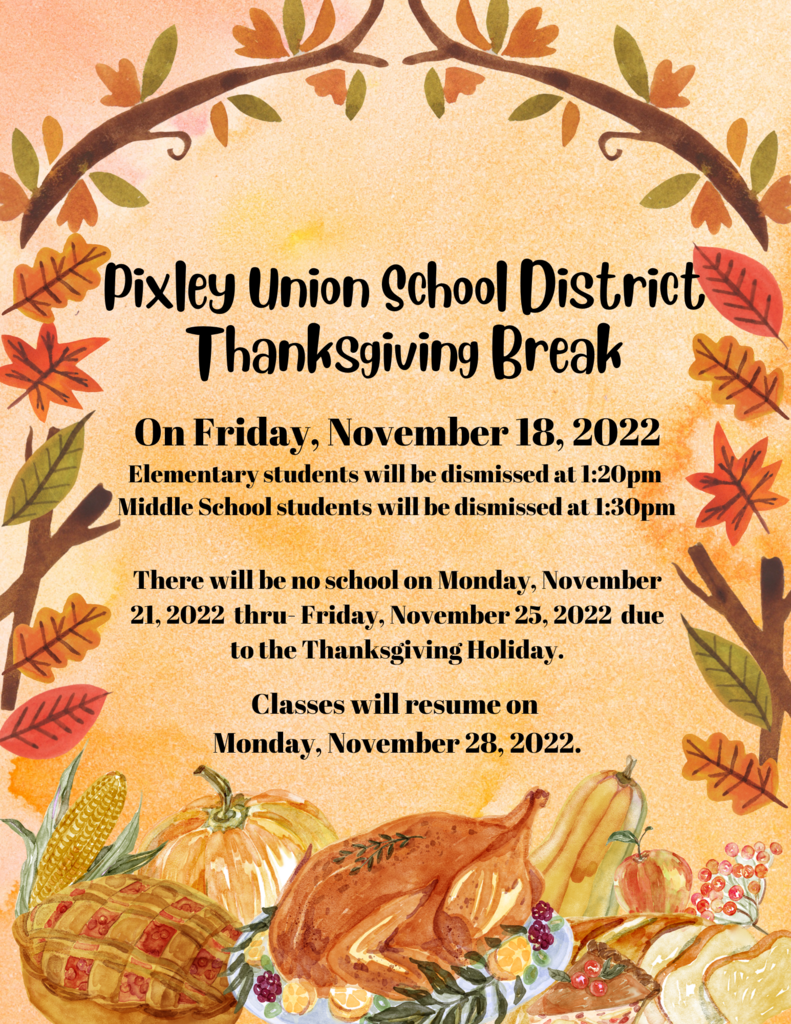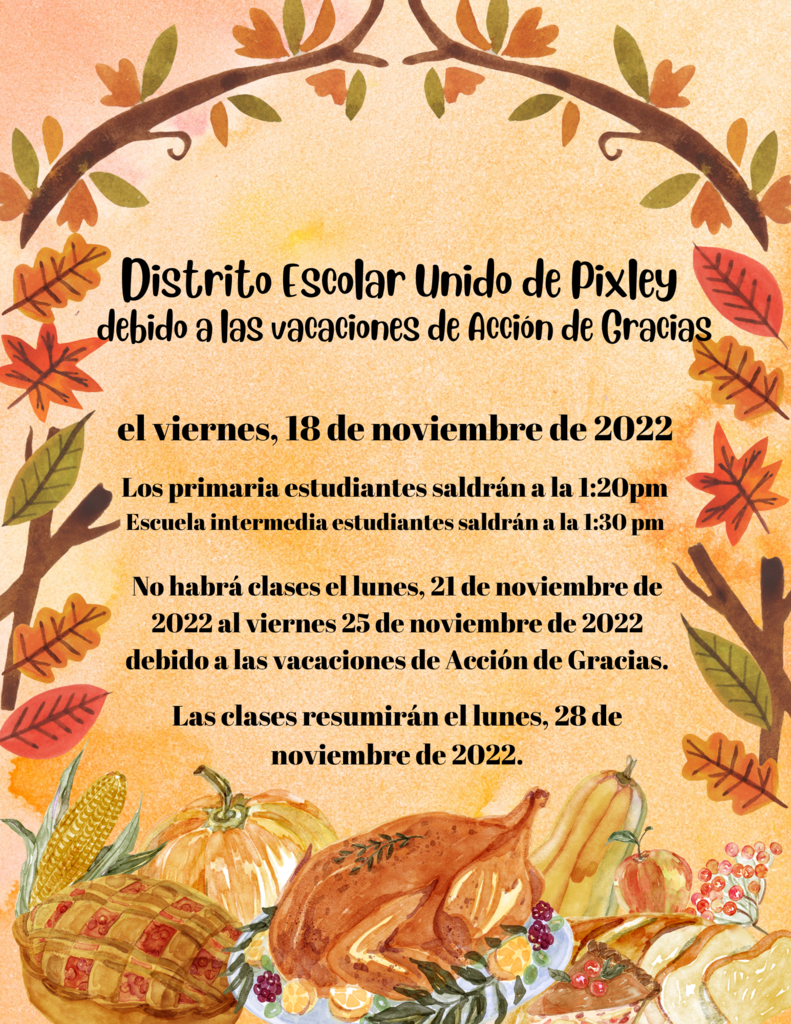 No Early Release on Wednesday, November 16th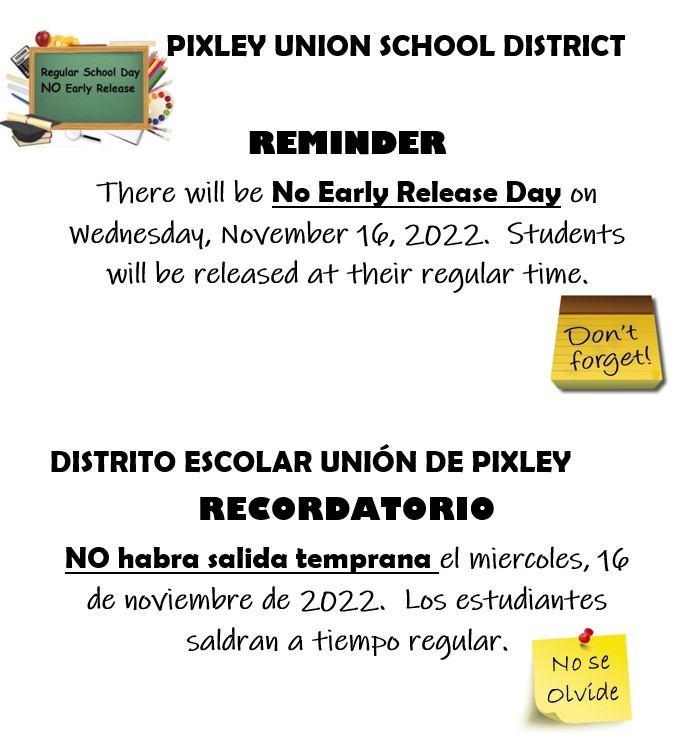 Thanksgiving Community Dinner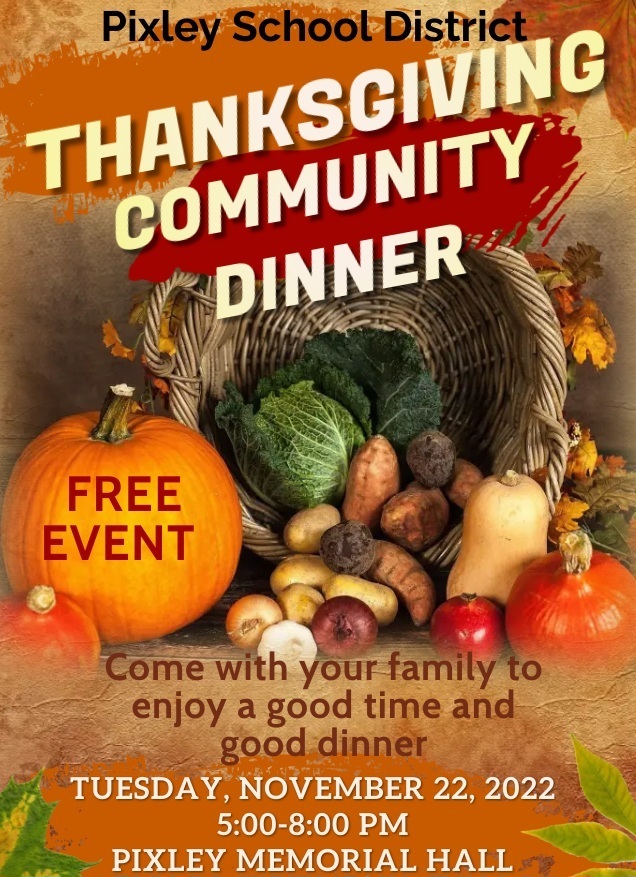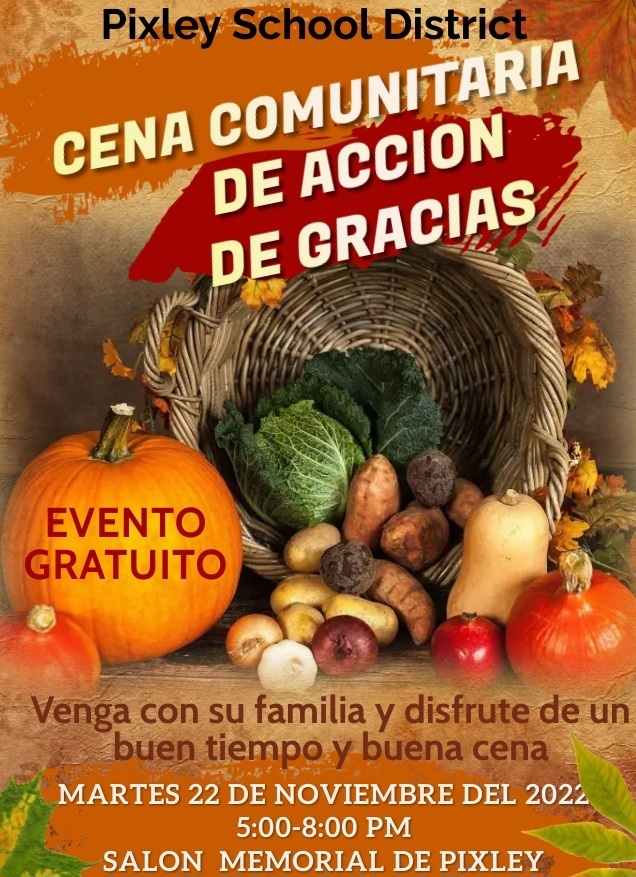 Now that we are entering the Winter season with that comes fog. Please read the following foggy day schedule 🌫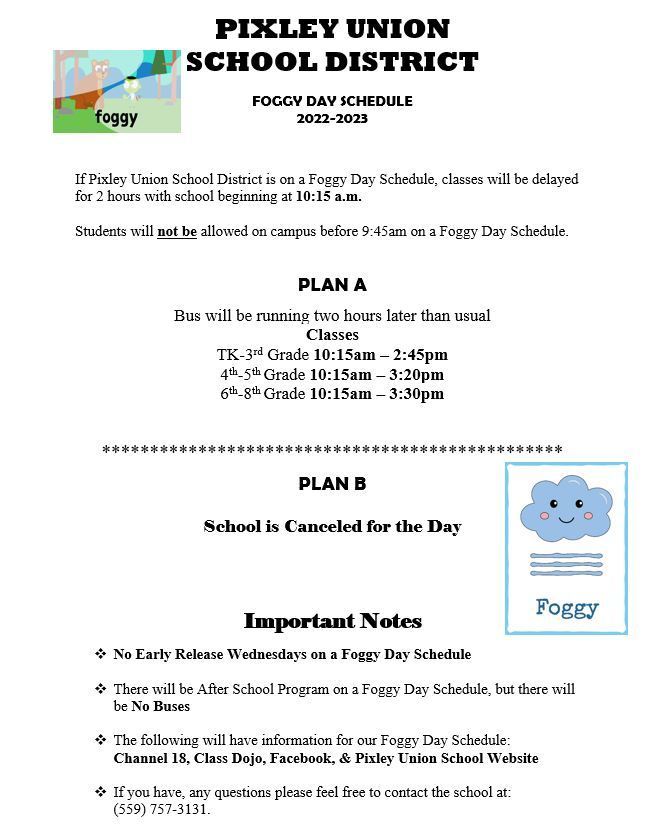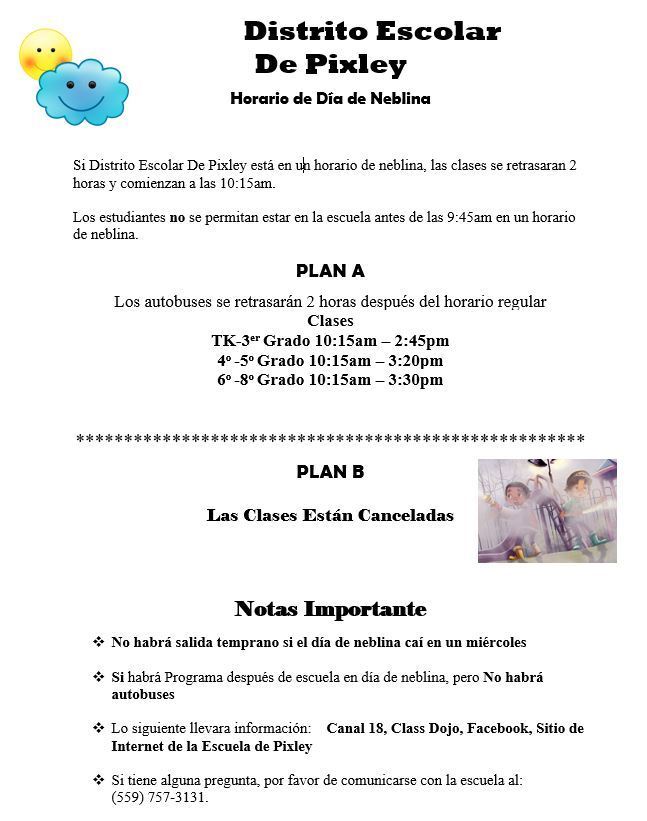 Veterans Day- No School, Friday November 11th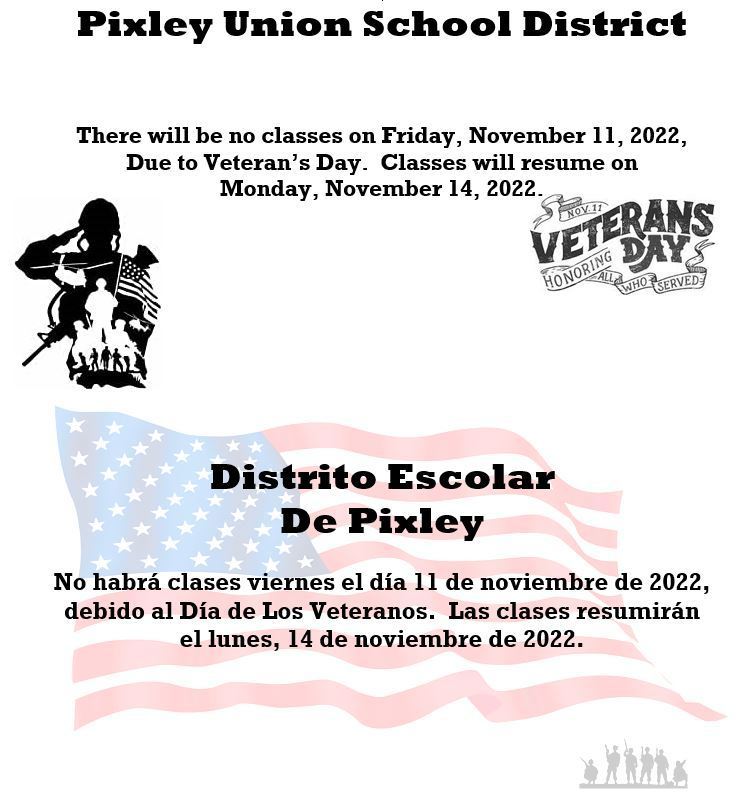 Important Reminder: ⚠️ Tomorrow, Wednesday November 9th Elementary ONLY has Early Release at 1:20 for Parent Teacher Conferences. Middle School is a regular day. There is no school on Friday in observance of Veterans Day.

CHOICES TUPE Newsletter Please Read - Mission Statement The CHOICES TUPE program helps students understand the consequences of unhealthy decisions such as choosing to use tobacco, alcohol, and other drugs.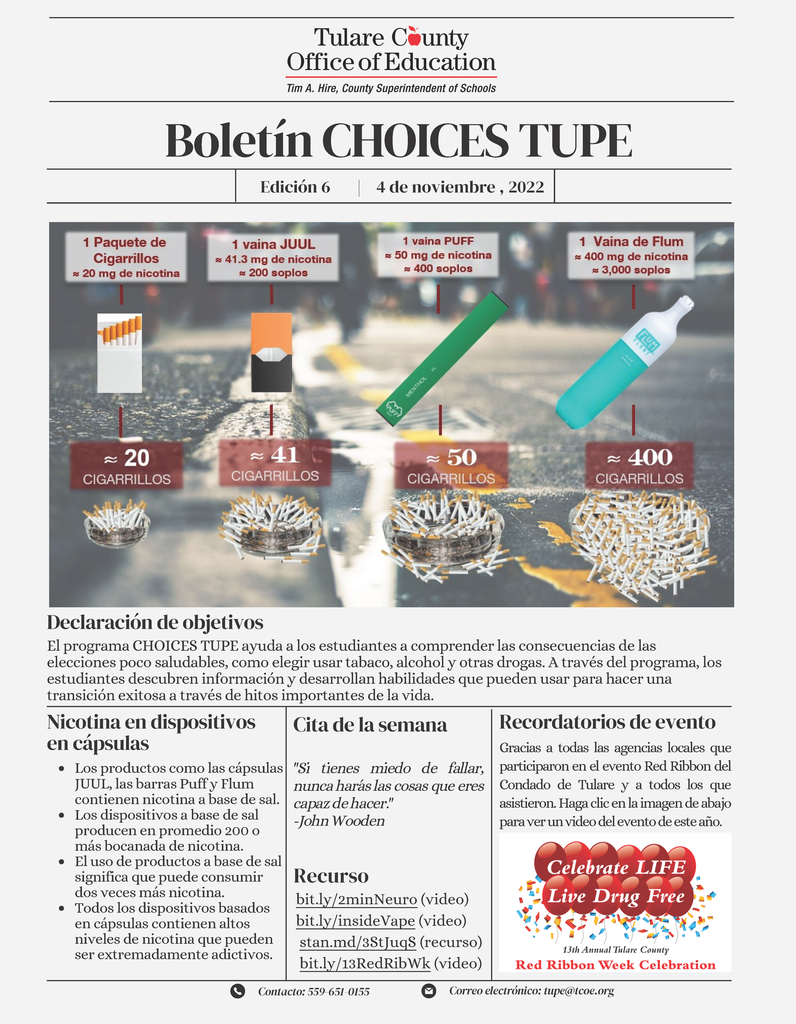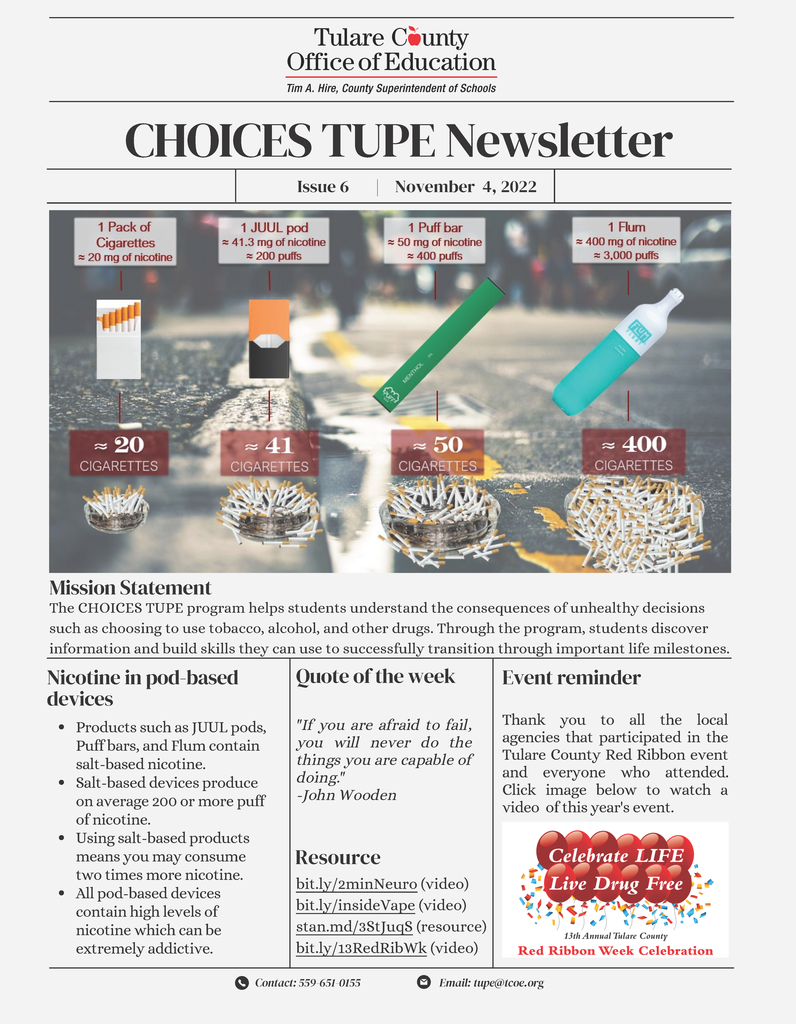 Family Resource Center's November Calendars